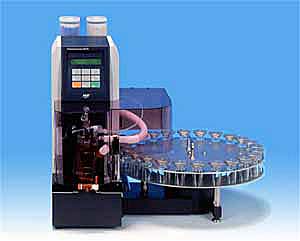 CHK-501
The built-in cup sensor detects the end of multiple sample measurement, and turns off the power automatically.
This sampler is equipped with diagnosis function, which checks sequence program, keypad and display performance.
The commercially available sample vial is used, and can be easily obtained by user.
The auto-power off function saves power and nitrogen gas even when it is operated at night unattended. This function can be turned on while measurement is underway.
Limited to be connected with MKC-710 series and MKC-700.