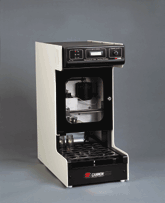 CCS-2100
The CANNON®
• Cooled by solid state thermoelectric modules
• Requires no methanol coolant or other flammable liquids
• Fully automatic operation
• Extended Range – 1500 to 27,000 mPa•s (cP)
• Temperature Range, -35 to -10 C


The CCS-2100 combines automatic sample loading, computer-controlled operation, and solvent-free cleaning to permit completely unattended operation. No further operator involvement is required after initial loading of the sample table and identification of samples. The CCS-2100 will automatically test up to 30 samples at one time, calculate their viscosities, and record the results, freeing the operator for other tasks. Improved temperature management by the patented thermoelectrically-cooled rotor/stator eliminates the need for grouping the samples by temperature of analysis. The CCS-2100 meets all the requirement of ASTM D 5293 and SAE J300.